Table of Contents
Cambly Review Summary
Cambly pays $10.20 per hour to teach adults, while Cambly Kids pays $12. Both hire Native English Speakers, with no degree, teaching certificate or experience needed. There is no interview, classes are 1v1 and can be canceled with 12 hours' notice, however, it can take months to be approved and you must have PayPal.
| | |
| --- | --- |
| Pay (per hour): | $10.20-12* |
| Native / Non-Native Speakers accepted? | Native |
| TEFL / TESOL / CELTA required? | No |
| Degree / diploma required? | No |
| Adult / child students? | Both |
| Class size: | 1 |
| Minimum hours (per week): | 0 |
*Cambly (adults) = $10.20, Cambly Kids = $12
Cambly Pros and Cons
Pros:
No teaching certificate, bachelor's degree or prior experience is required
Flexible schedule with no minimum hours and only 12 hours' cancellation notice needed
Priority Hours guarantee a portion of income, even without calls
Teaching materials are available but with flexibility to use your own
Straightforward application process without a formal interview or live demo
Cons:
Low rates of pay
Only hires Native English Speakers
Only pays out via PayPal, which is unavailable in some countries
Hiring process can be lengthy (several months) during periods of low student demand
Some children will still appear on the adult Cambly platform, where you will get paid less for teaching them
What Is Cambly and Is Cambly Legit?
Cambly is a legitimate and well-established online ESL company, founded in 2012, that has grown to become one of the biggest names in the industry with a Trustpilot score of 4.3 out of 5. Cambly English teaching is conducted with a diverse range of students, both adults and children, covering needs that include learning basic English, conversational English practice, test prep (e.g. IELTS), reading comprehension, and business English.
Where Is Cambly Based?
While Cambly's headquarters is located in San Francisco, USA, Cambly online teaching is delivered by tutors from over 170 countries to students in 190+ countries.
How Much Can You Make on Cambly?
The Cambly pay rate for adult teaching is 17 cents per minute (US$10.20 an hour), while Cambly Kids pay is slightly higher at 20 cents a minute ($12 per hour). However, some children do appear on the adult platform occasionally; in such instances you will be paid the lower rate to teach them.
If you become a Cambly Ambassador, you can make an additional bonus through their referral incentive scheme:
when your 'friend' is approved by Cambly or Cambly Kids, you both receive $10
when your 'friend' has tutored for at least 10 hours on Cambly or Cambly Kids, you receive an additional $20
How Does Cambly Pay You?
The only Cambly payment option available is PayPal. Tutors in countries that have banned PayPal have had to use friends or relatives located elsewhere to open an account or receive money for them.
When Does Cambly Pay?
A Cambly salary is paid every Monday by 6pm (Pacific Standard Time), so long as at least $20 is shown in the tutor's balance, otherwise it will carry over and accrue for the following week's payment cycle.
Cambly Kids
Tutoring for children between the ages of 4-15 years is done through Cambly Kids. The pay for a Cambly Kids tutor is slightly higher at 20 cents per minute ($12.00 an hour).
Cambly Kids lessons are reservation-only and follow a 30-minute lesson from the Cambly curriculum which is designed to not require prep ahead of time, though you may modify the materials if it is in the students' interests. When teaching children, you are expected to use TPR, props and a reward system.
This video summarizes what to expect from a Cambly Kids lesson:
This chart explains the content of each Cambly Kids lesson and helps determine whether your student is enrolled at the correct level or not: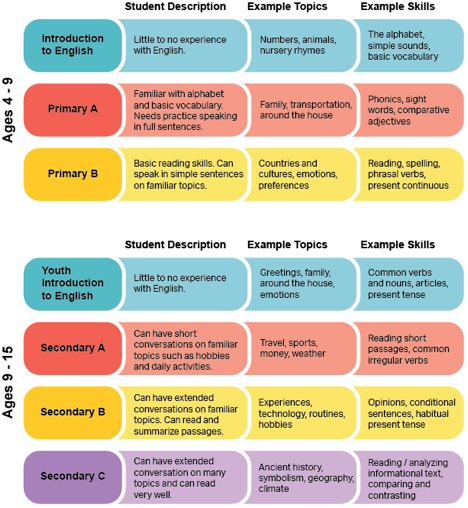 Cambly Hours
With students and tutors located all over the world, teaching on Cambly takes place 24/7.
With pay by the minute, there is also no set length of time for a Cambly lesson, apart from Cambly Kids which has fixed 30-minutes classes.
Cambly has no minimum hours requirement, and teachers can set their own schedule and take time off without penalties so long as students and the company are informed with at least 12 hours' notice. However, if you cancel or miss multiple reservations in a row, Cambly may clear your schedule and temporarily limit your reservation calendar.
Students sign up for classes once, 3 or 5 times a week. Cambly tutors are expected to sign in to their lessons early to test the connection and wait 10 minutes for the student to turn up. In the case of a student no-show, you will be compensated for those 10 minutes ($1.70), though if the student cancels just a minute before the allotted time then you receive nothing. Unconfirmed reservations are automatically canceled if:
the reservation was made at least 24 hours in advance and has not been confirmed 12 hours before the lesson
the reservation was made 12-24 hours in advance and has not been confirmed 4 hours before the lesson
the reservation was made less than 12 hours in advance and has not been confirmed 1 hour before the lesson
What Are Cambly Priority Hours?
Due to its international student base, there are no specific Cambly peak hours. However, Cambly does release Priority Hours based on student demand. These are 1-hour blocks where you are committed to answering all incoming calls for the full hour; in exchange you will be featured to new students and be paid for at least 15 minutes of chat time, even if you receive no calls. There are also occasional bonus periods where 30 minutes of pay is guaranteed.
Up to 10 Priority Hours can be selected within a 24-hour period. These can be scheduled 1 week in advance for new tutors and 3 weeks in advance for those with a high rating.
As with standard lessons, 12 hours' notice is required to cancel any Priority Hours, though if you urgently have to log off from your Priority Hour early this is allowed as a one-off. Regular abuse of this may lead to your Priority Hours access being temporarily blocked.
Here is a video guide to Cambly Priority Hours:
Cambly Requirements
There are not many Cambly tutor requirements. You just need to:
be a Native English Speaker
have access to a stable internet connection with a minimum download speed of 10mbps and upload speed of 3mbps (you can test your system compatibility here)
While a bachelor's degree, teaching certificate and teaching experience is preferred, it is not necessary to be a Cambly English tutor.
How Old Do You Have to Be to Tutor on Cambly?
The Cambly tutor age requirement is 18 years.
Is Cambly Hiring?
Cambly is always accepting new applications, though the availability of Camby tutor jobs is determined by student demand, affecting the length of time it can take them to approve new tutors.
How Long Does Cambly Take To Approve?
It can take between 1 day and several months for a Cambly tutor application to be reviewed and approved, dependent on student demand and to ensure that any new hires do not cannibalize the bookings of existing teachers.
How to Become a Cambly Tutor?
The Cambly application process is relatively short and straightforward, taking approximately 15 minutes, without any formal interview or live demo lesson.
To become a tutor on Cambly, you must first sign up with either your email address, Facebook, Google, or Apple account. When doing so, ensure that you are using the latest version of Google Chrome from a computer or laptop (not another browser or a smartphone/tablet).
You will then be asked whether you want to apply for 'Cambly Classic' (adult students) or 'Cambly Kids' (children). This is not exclusively either/or, and you can return to apply for the other choice afterwards.
Next, you will have to fill out the following information for your Cambly tutor profile, which serves as the application form:
Profile picture – Upload a clear and friendly headshot to attract new students, looking directly into the camera and smiling. Keep it professional with a tidy background. Follow Cambly's dress code (no hats unless it's religious headwear, no sunglasses, and shoulders should be covered), with no animals or other people in the photo.
Basic info.

Display name (refrain from using your full name for privacy purposes)
Where from
Date of birth

Cambly introduction video* – record or upload a Cambly intro video highlighting your teaching style, expertise and personality
Written introduction
Teaching style – Do you prefer working with beginners? Are you kind and patient, scholarly and knowledgeable, or fun and gregarious?
About me – include cool talents, unique hobbies and interests, or anything that will make a student say "Wow, I want to book a lesson with this tutor!"
Languages – Cambly requires all tutors to be native English speakers. Select the dialect that best fits you. If you speak other languages, you may also add this to your profile to help attract more students.
Work experience
Education
Teaching certificates (optional)
Supplemental Cambly questions:

Why do you want to tutor on Cambly? This portion will only be shared with your tutor reviewing team. Take time to fill this part out, and say what compels you to work with English-learning students from around the world.
Where did you hear about Cambly?
Have you worked on any other tutoring platforms in the past? (VIPKid, GoGoKid, ByteDance, other)

Connection test

High-speed internet connection (Download = 10Mbps, Upload = 3Mbps)

Built-in or external webcam
Good lighting
Microphone or headset
You can browse Cambly tutor profile examples here, and below is a video overview of the Cambly hiring process:
*There is no formal Cambly job interview but treat the Cambly introduction video as if it were. Here are Cambly video tips and an official sample that they provide:
Length: The Cambly application video should be 1-3 minutes long. Less than this and you will be asked to re-record a new one. In this time, talk about your experience, show off your personality, and talk about what a class with you would be like.
Dress code: Follow the dress code while recording your video. Dress casually (no suit and tie), but do not wear any hats (except religious headwear), sunglasses or expose the shoulders.
Video quality: Re-watch your video to ensure it is not blurry, grainy, lagging or lacking audio, otherwise you will have to re-record the video.
Lighting: Record your video with optimal lighting, clearly showing your smiling face. Sit with the window or light in front of you, not behind you, to avoid creating a silhouette.
Audio: Speak clearly in a quiet room, ensuring that there are no distracting background noises.
Show off your personality: Smile and show off your personality. Don't be afraid to get enthusiastic! Scripts can be helpful, but it is best to be spontaneous and natural whilst speaking directly to the camera. Students watch the tutors' introduction videos while trying to select one, so show them the best of you.
Privacy Policy: Some tutors show off their creativity by adding captions, graphics, photos or music to their videos. While editing your video, do not include photos of any other person besides yourself, in order to protect their privacy. Logos for other companies should also be removed from your background. If you add your teaching certificates or diplomas to your introduction video, be sure to cover your full name in order to protect your privacy outside of the Cambly platform.
Cambly Demo
You will only have to record a demo lesson if you are applying to Cambly Kids. For this additional step, you are expected to show off your ability to engage children in English lessons with a 3-5 minute demo highlighting your teaching style. You are given sample lesson slides to use, which need to be targeted at a 7-8 year old student with basic English knowledge, and make sure you use plenty of TPR.
Here is the video example that is provided:
Cambly Tutoring
This Cambly tutor guide provides a brief overview of Cambly teaching and how it is conducted once you are hired:
To summarize, Cambly teachers are expected to:
Introduce themselves – Start with a short introduction, wave and smile, e.g. "Hi! My name is Kevin and I'm from San Francisco. What is your name?"
Find a Topic – After initial introductions and small talk, ask "What do you want to practice today?" Some students may have something in mind, while others might want to practice conversation. Be curious.
Enjoy the Conversation – Once you find a topic, maintain the flow of conversation with thoughtful follow-up questions. Suggestions for Cambly Conversations can be found here.
Provide Corrective Feedback – Too many corrections can discourage a student, but too few will slow their growth. Aim for 1 correction for every 5 minutes of conversation. Corrections should be done both verbally and in the chatbox.
Wrap-up – reference something from your chat so that your student leaves with a good impression. Also coordinate your next lesson or assign 'homework' (perhaps an article or video you'll discuss next time). If your session ends before you wrap things up, send some feedback and words of encouragement in a message after the chat.
Here is another video showing how to use the Cambly classroom and the resources that are available:
For full classroom functionality you will have to download the Cambly Chrome Extension.
Cambly Rating System
Whenever you teach for Cambly, students will give you a rating of up to 5 stars, with an average score calculated from your last 200 ratings that is updated once a week. A new tutor with Cambly will be tagged as 'New Talent' until they have taught for 40 hours. The average tutor rating is 4.8, and unfair ratings are filtered out from:
non-paying students
banned students
chats with connection issues
chats lasting less than a few minutes
Students who have taken a free Cambly trial lesson also do not contribute towards the rating.
A high rating is important for attracting new students, increasing your advanced access to Priority Hours (to 3 weeks), and being tagged as a 'Cambly Supertutor', so the company provides the following tips and video to help:
Be patient and attentive with each student you meet
Be flexible and ready for anything. If a 5-minute free trial wants to practice IELTS, go for it! You have plenty of time for 2 short questions and 1 long question including feedback.
Have a lot of materials available like Cambly conversation topics, articles, grammar, and even flashcards for beginners. Many Cambly students are taking their first step on the journey to learning a new language. Having a confident and prepared tutor can make all the difference.
Does Cambly Provide Lesson Plans?
A digital library featuring teaching resources is available to tutors, and Cambly Courses are designed so that no prep is required before lessons. Flexibility and adaptability are valued when tutoring with Cambly, however, so you have the freedom to improvise or do your own thing if it better meets the students' needs.
Can I Teach Cambly on My Phone?
While students can use their mobile phones to connect via the Cambly app, Cambly English tutors must use a laptop or desktop computer to provide the best teaching experience.
Cambly Reviews – Is Cambly Good to Work For?
The Cambly Glassdoor page gives the company an average rating of 3.6 out of 5, with 73% willing to recommend them to a friend. Here is their summary of the pros and cons of working for Cambly:
Most of these Cambly tutor reviews are quite short and do not provide much substantial detail, but here is a longer one written relatively recently that is fairly balanced with a score of 3 out of 5, praising the flexibility but criticizing the way that Cambly pays its tutors:
The Cambly Indeed page gives the company a similar rating of 3.4 out of 5. Cambly reviews here are slightly longer but fewer in number. This is the most-detailed, recent example (at the time of writing), which talks positively about their students and flexibility (again), but has complaints about the pay rate, tech issues, Cambly support, rating system and privacy issues:
Conclusion – Is Cambly Worth It?
Cambly are a popular choice among online English teachers due to their low barrier to entry, simple application process and flexibility, with no specific qualifications or experience needed, no minimum hours commitment, and cancellations allowed with 12 hours' notice. Priority Hours are an added perk that guarantee a portion of income even without bookings. Whether the low pay is worth it, however, will depend on the cost of living in your country, while they are also not a quick option if you apply during a period of low student demand.
You can apply on the Cambly tutor sign up page.
A full list of other online teaching companies can be found here.