Table of Contents
LingoAce Review Summary
LingoAce is a Singaporean company hiring Native Speakers from select countries/states to teach children 1v1 and 1v6 online. Pay is between $14-$20, but you must have a degree, teaching certificate and 2 years' experience, with only 2% of applicants successful, while booking rates are reportedly mixed.
| | |
| --- | --- |
| Pay (per hour): | $14-$20 |
| Native / Non-Native Speakers accepted? | Native |
| Degree / diploma required? | Yes |
| TEFL / TESOL / CELTA required? | Yes* |
| Adult / child students? | Children |
| Class size: | 1-6 |
| Minimum hours (per week): | 0 |
*or teaching license
LingoAce Pros and Cons
Pros:
Base rate is higher than some, becoming more competitive with bonuses
Bookings in both Asian and European time zones
Regular students usually stay with teachers for 3+ months
No minimum hours commitment
Referral incentive
Bank account payments
Cons:
Only recruits Native Speakers from 5 countries (and select states)
Must have a Bachelor's degree, teaching certificate and 2 years' experience
Just 2% of applicants are successful
Fast internet speed required
Booking rates vary and take time to build
Not many reviews on LingoAce from existing teachers
Is LingoAce Legit?
LingoAce (sometimes referred to as LingoAce Global and not to be confused with Lingoda, Lingostar, Lingo Live or Lingofor.me) is an online language-learning company that was founded in 2017. The LingoAce program began by providing Chinese language instruction to more than 10,000 students, but since 2021 it has expanded into the ESL sector with LingoAce English Live. Having delivered more than 2 million class hours, the company currently utilizes around 4,500 teachers.
Their legitimacy is underlined by a LingoAce Trustpilot score of 4.5 out of 5, being named in the GSV EdTech 150 list of the world's most transformational growth companies in digital learning, and $180 million of funding it has attracted to date from investors such as Owl Ventures, the world's largest venture capital firm in the EdTech sector.
Where Is LingoAce Located?
The LingoAce headquarters is in Singapore, so the company is not affected by 2021's change in regulations governing online teaching in China. LingoAce has additional offices in Silicon Valley (USA), Jakarta (Indonesia), Bangkok (Thailand), Beijing and Chengdu (China), serving students aged 4-15 years located in over 100 countries.
While a LingoAce English teacher may live and work from any country, there are nationality restrictions, with the company only hiring Native Speakers from the UK, Australia, New Zealand, Canada and the United States (barring residents of California, New York, Massachusetts, New Jersey, and Illinois).
LingoAce Teacher Salary
LingoAce teacher pay varies according to the type, length and size of the LingoAce English class being taught.
LingoAce pay a base rate of US$7 per 25-minute 1v1 class and $15 per 55-minute group class (of up to 6 students). This applies regardless of whether it is a regular or LingoAce trial class, though each carries its own bonuses for converting students, having fixed/recurring classes, providing written feedback and LingoAce homework revisions. Here is a full breakdown:
| | | | | | | |
| --- | --- | --- | --- | --- | --- | --- |
| Type of class | Base rate | Fixed/recurring bonus | Enrollment/conversion bonus | Homework revision | Feedback | Maximum total |
| 1v1 regular | $7 | NA | NA | $3 | NA | $10 |
| 1v1 trial | $7 | NA | $3 | NA | NA | $10 |
| Group regular | $15 | $3 | NA | $2 | NA | $20 |
| Group trial | $15 | NA | $3 | NA | $2 | $20 |
To increase your LingoAce salary further, there is also a referral incentive scheme worth $100 for each successful applicant you help recruit.
LingoAce payment is issued on the 15th of each month to teachers' bank accounts.
LingoAce Hours
LingoAce has no minimum hours commitment. Slots can be opened 24/7, though there are two sets of peak hours that provide the most popular times for LingoAce ESL students in Asia or Europe:
European peak hours = 8am-12 and 1-9pm (UTC)
Chinese peak hours = 10-11am and 2pm-midnight (Beijing Time) on weekdays, 9am-midnight on weekends
One-on-one (1v1) LingoAce lessons are 25 minutes long, while small group classes involving up to 6 students last 55 minutes. Both have 5 minutes of preparation time beforehand, with teachers given 24 hours to submit feedback afterwards. Teaching materials are provided, which saves some time. This diagram takes you through the LingoAce teaching cycle: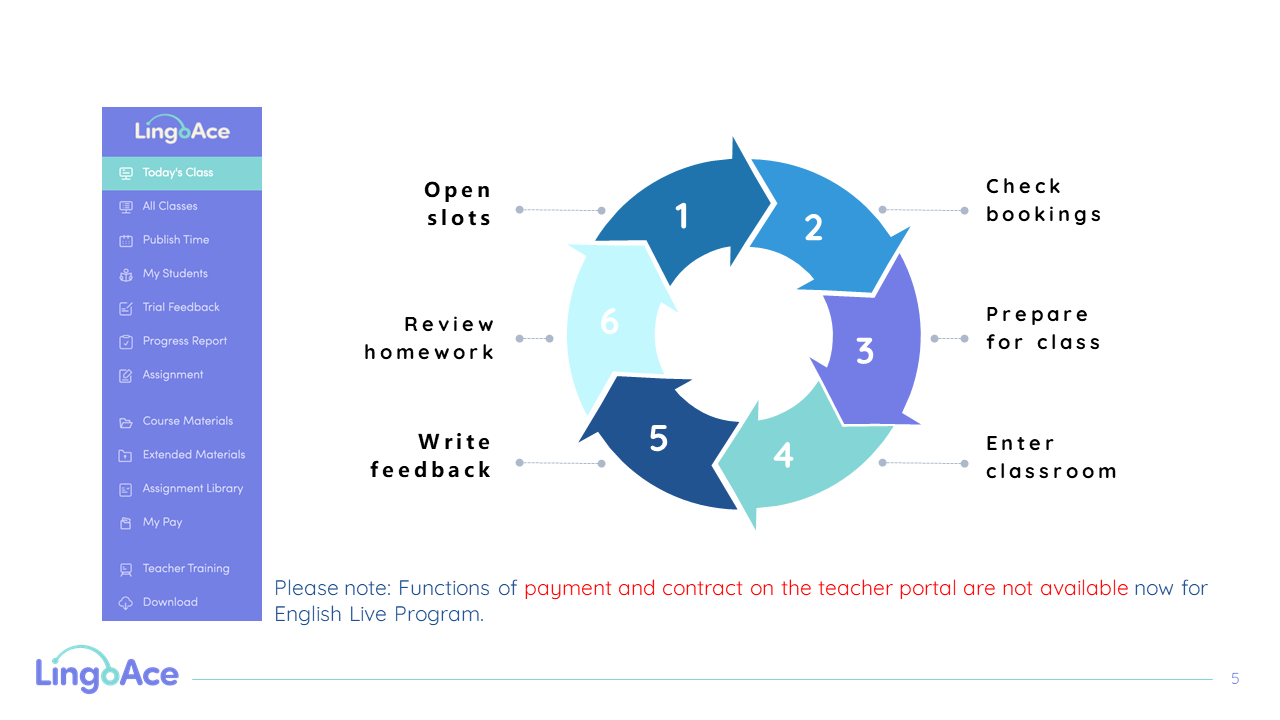 Reports of LingoAce booking rates have been mixed among teachers on Facebook:
The company itself admits that 'it can take up to a month to get a relatively steady stream of classes, as students and parents get to know and try out new teachers'. Once a regular class is secured, the same student(s) will typically remain with the teacher for 3-6 months.
LingoAce Requirements
To apply for LingoAce jobs, you must meet the following requirements:
Are a Native English Speaker from the UK, Australia, New Zealand, Canada or the USA (with the exception of California, New York, Massachusetts, New Jersey and Illinois residents)*
Have completed a Bachelor's degree in any field (not a diploma)
Possess 2+ years of experience in teaching, tutoring, coaching or mentoring
Hold a teaching certificate, e.g. TEFL/TESOL/CELTA, or a valid teaching license
*So long as you meet the nationality requirements, you may live/teach from any country.
LingoAce Technical Requirements
To teach with LingoAce online, you will require access to the following:
Operating System: Windows 7 or higher / Mac OS 10.13 or higher
CPU: Intel Core i5 or equivalent/higher
Memory: 8GB or higher
Internet connection: Wired DLS with at least 40 Mbps download and 20 Mbps upload (you can test your internet speed here)
LingoAce Teacher Application
There are 4 main stages to the LingoAce recruitment process:
Basic Info: Fill in the LingoAce application form where you are screened for basic requirements and teaching experience.
Teaching preparation: Receive email with teaching preparation link; review self-paced learning materials including courseware introduction, sample videos, classroom functions, and self-practice.
Live demo: Practice teaching a class with a coach.
Start teaching: Update your teacher profile and add time slots to your portal so students can start booking you.
Be aware that LingoAce hiring can be rather selective, with only 2% of applicants succeeding.
The LingoAce sign up form can be found here. It should take around 10 minutes to prepare your LingoAce English Teacher application with the following information:
Part 1: Basic info

Full name
Email address
Time zone
Current location
Where did you hear about LingoAce?
Upload proof of identity (national identity card, passport, driving license, etc.)

Part 2: Education and Teaching Experience:

What universities did you attend?
What is your highest level of education?
What is your major?
Upload a picture or copy of your degree or an official transcript with information on the degree awarded
How many years of teaching (tutoring/mentoring) experience do you have?
What kind of teaching certificate do you have?
Upload a picture or copy of your teaching certificate

Part 3: Teacher Profile – submit a picture and video clip for LingoAce to create your online teacher profile. This profile will be available to students and their parents to promote your class

Upload a picture of yourself (this picture will be used as an avatar. Upload a headshot showing both shoulders)
Upload a 30-60 second self-introduction video (When shooting the video, end with 'Welcome to our LingoAce English Live Class')

Part 4: Access and use of the LingoAce English Live platform is contingent on your agreement to the terms of LingoAce's Independent Contractor Services Agreement

Review and confirm the following statement: 'I hereby represent and warrant that I am not a resident of California, New York, Massachusetts, New Jersey, or Illinois and will not carry out work on the English Live platform from those states.'
Start date (The Agreement starts on the date the Teacher consents to the Agreement's terms)
End date (This Agreement ends on the last day of the sixth month after the Teacher consents to its terms)
Sign your full name below to confirm that you agree to the terms of the Independent Contractor Services Agreement. By signing, you represent and warrant that you have read the entire agreement
This video provides a short overview for prospective LingoAce teachers:
LingoAce Interview/Demo
Should you pass their initial screening, you will be emailed a link to schedule a mock LingoAce lesson, with access to preparation materials covering courseware, classroom functions, sample videos and self-practice. You can cancel and reschedule up to 3 times if needed.
The LingoAce interview is approximately 50 minutes long; the first 5-10 minutes will be an introduction and an opportunity for you to ask questions, the LingoAce demo itself will last 25 minutes, and there is 15 minutes for feedback at the end.
Your interviewer/coach will be playing the role of the student, and will let you know the outcome within 24 hours. Some candidates are required to do a second demo.
This LingoAce applicant has shared some of the feedback she received after her first demo, namely that the use of props, drawing tools and instructional TPR is good, but avoid transitional phrases and echoing, minimize teacher talk time, and use more ETPR (Educational TPR – demonstrate the concept you are trying to teach):
Here is a glimpse of the LingoAce platform, accessed through the Chrome browser, showing some of its tools:
LingoAce Reviews
The LingoAce Glassdoor review page gives the company a score of 3.4 out of 5, with 57% willing to recommend them. Though calculated from 50 LingoAce job reviews currently, most are written by full-time employees at the company and not online teachers. Some insight can still be gleaned from these, such as: 'The curriculum team actually seems passionate about education and creating a syllabus that works for students. They still slog and work hard, but it's refreshing to see the focus on students.'
When filtered to just show LingoAce teacher reviews, only 3 appear, none of which provide a great amount of detail even if they are positive:
Conclusion – Is LingoAce Good?
LingoAce might be a good option for teachers wanting a choice of different regional time zones for their classes/students, while the pay is above average in the current climate (more so with bonuses). Hiring is selective, however, and reports of bookings at the end of it are mixed, though the company is still relatively new and growing in the ESL space.
You can apply for LingoAce ESL jobs here.
A full list of other online teaching companies can be found here.