Table of Contents
Verbling Review Summary
Verbling is a US-based teacher marketplace offering over 80 languages to adult learners. They hire experienced Native and Non-Native Speakers without a degree or teaching certificate and have a low commission rate of 15%, though applicants are currently limited and there is growing discontent at company culture.
| | |
| --- | --- |
| Pay (per hour): | $14-31* |
| Native / Non-Native Speakers accepted? | Both |
| TEFL / TESOL / CELTA required? | No |
| Degree / diploma required? | No |
| Adult / child students? | Adults |
| Class size: | 1 |
| Minimum hours (per week): | 0 |
*average set by tutors
Verbling Pros and Cons
Pros:
Lower commission rate than some other marketplaces
No interview
Very few requirements to apply
Can teach a wide range of languages
Cons:
Hiring periodically frozen
Difficult to attract students
Can no longer tutor kids
Tutor concerns about privacy and censorship
Strict about not using alternative platforms, even during technical emergencies
Teachers must prepare their own materials
You can only teach one language, even if multilingual
What Is Verbling and Is Verbling Legit?
Verbling is a legitimate online platform that connects learners with teachers of over 80 languages (not just English/ESL). Founded in 2011, it was acquired in 2020 by Busuu, a UK edtech company. Since then it has focused more on teaching adults, with minors aged 13-17 years only able to attend Verbling classes with express parental permission.
Where Is Verbling Located?
Verbling's headquarters are in San Francisco, USA, though parent company Busuu are based in London, and its teachers and students work remotely from all over the world.
How Does Verbling Work?
Teachers can offer students a 30-minute Verbling trial lesson to attract and convince them to buy batches of either 1, 5, 10 or 20 Verbling classes.
The company does not assign learners, nor can teachers contact any students who have not visited their profile.
New Verbling teachers are helped with a boost in ranking that temporarily puts their profile at the top of the teachers' list, but otherwise they have to market themselves.
Verbling teachers receive a notification when they receive a booking, and they have to message the student to determine their proficiency level and preferred learning style so that suitable materials can be prepared.
Verbling Platform
Verbling language learning is conducted on Verbling Video, the company's bespoke video chat platform. The company is very strict about Verbling online teaching not being carried out on alternative platforms such as Skype or Zoom, even in the case of technical emergency this violates the Verbling teacher agreement.
Verbling Video is compatible with the Google Chrome and Mozilla Firefox browsers on PC or Mac. Mobile devices cannot be used for teaching with Verbling. You will need to download an extension from the Google Chrome Store to be able to share your screen in Verbling Video.
Below is a video introduction to Verbling Video and Workspace, though you can also try out the tools yourself with their Verbling Demo Lesson simulation:
Verbling Lesson Plans
As a marketplace, Verbling tutors have to create their own teaching materials and lesson plans. This can be done in the Teacher Admin page, under Tools – Lesson Plans: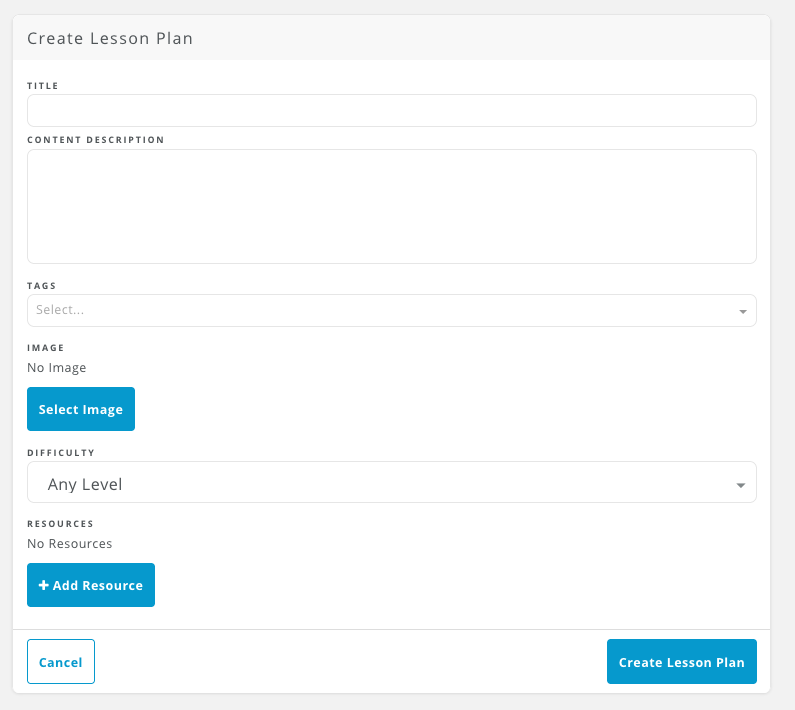 Once created, you can then 'Attach Lesson Plan' to your class under the 'View' menu:

Verbling Hours
There are no minimum or maximum hours to teaching on Verbling. Verbling online classes are booked in 60-minute slots which can be scheduled 24/7.
By default, no Verbling lessons can be automatically booked with less than 12 hours notice, though this setting can be changed to 24 or 48 hours within Teacher Admin. Students may book any hour you have made available within this notice period without needing confirmation.
Verbling Cancellation Policy
If a Verbling tutor cancels a lesson, they forfeit their pay for that session, while the student receives a 100% refund in Verbling credits regardless of how much notice is given to them.
It is classed as a Verbling teacher no show if you are not on the lesson page within the first 10 minutes of the class. The student is entitled to a 100% refund unless they reschedule the lesson.
If a Verbling student cancels more than 12 hours in advance of their lesson, they still receive a 100% refund; less than 12 hours notice results in a 50% refund. A Verbling student no show means that the teacher may keep their earnings from that lesson, or they may unschedule or issue a partial refund if they choose.
You should only reschedule a Verbling lesson in extreme circumstances. If too many lessons are missed, cancelled or unscheduled by a teacher, then they may be removed from the platform.
How Much Does Verbling Pay?
As a marketplace, the Verbling salary is set by the teachers themselves. Here is the average Verbling pay rate for some of the more popular languages taught:
| | |
| --- | --- |
| Language | Rate per hour (USD) |
| English | $19 |
| Spanish | $18 |
| French | $24 |
| German | $31 |
| Italian | $22 |
| Portuguese | $15 |
| Mandarin | $20 |
| Japanese | $25 |
| Russian | $16 |
| Arabic | $14 |
What Percentage Does Verbling Take?
A Verbling commission rate of 15% is deducted from all earnings. Therefore, if you charge $20 per hour, you will receive $17 (85%) of that.
Verbling Payment Methods
A Verbling tutor salary can be cashed out once a week from the 'Earnings' page every Sunday or Monday (depending on time zone). Three Verbling payment methods can be used for withdrawals:
Wise (except the following currencies: PKR, LKR, PEN, BDT, COP, CNY, INR, UAH, GHS and USD to an account outside the US)
A minimum balance of $10 is needed to cash out to PayPal or Wise, while $20 is required for Payoneer.
Verbling Requirements
To teach on Verbling, you must meet the following requirements:
Good command (C2) of the language being taught (Non-Native Speakers accepted)
Previous experience teaching the target language to speakers of other languages (detailed in the biography, resume and video sections of your application, with an uploaded reference letter or other proof of teaching experience, e.g. screenshot of teaching profile elsewhere)*
A laptop or desktop computer with a camera, microphone, Google Chrome browser, and strong internet connection (see section below)
*A teaching certificate is preferred but not essential, so long as the teaching experience is verifiable.
Verbling Internet Speed
Verbling requires a minimum download speed of 10Mbps and upload speed of over 1Mbps. You can test your internet speed here.
Do You Need a Degree for Verbling?
A degree, TEFL/TESOL/CELTA certificate or formal teaching qualification is not required by Verbling, so long as you have verifiable teaching experience.
How to Become a Teacher on Verbling
To apply to Verbling, you must first create an account with your email address and password or by signing up with your Facebook or Google account.
Once logged in, you can start the Verbling application process by submitting the following information:
First name
Last name
Gender
Profile picture (600×600 pixels and square, face clearly visible, good lighting, smile)
What language do you want to teach? (you can only teach one language, even if you are multilingual)
Languages you speak and level
Link to Verbling introduction video (see instructions below)
Written biography (Introduce yourself to the Verbling community. Include your qualifications and experiences, your teaching style and approach to language learning)
Resume (experience type, title, institution, location, description, start and end dates, certification). Upload relevant qualifications and/or proof of having taught your language as a second/foreign language, e.g. screenshot of teaching profile elsewhere. Teachers who upload certifications will display a "Verified" badge in the 'Resume' section of their profiles)
Availability (London time zone – low or unrealistic availability can disqualify your application)
Photo of your ID (e.g. passport, driver's license or other form of governmental identity card)
Internet speed test
Consulting agreement
The Verbling hiring process can take 15 business days for your application to be reviewed and for you to receive an acceptance email. Unsuccessful candidates will not be contacted.
Verbling Introduction Video
Your Verbling video should be 2-3 minutes long and contain the following elements:
Introduce yourself
Mention your background, experience and skills
Teach something short and simple (e.g. a greeting or basic vocabulary)
Invite students to try a lesson with you on Verbling
Tips:
Remember to smile
Keep it simple, concise and personal
Avoid animations/sound effects unless you are confident in video-editing. If you are not a skilled video editor, adding animations/sounds can be damaging as it might make your video look unprofessional
Make sure you are clearly visible with excellent lighting and minimal background distractions
A portion of the video should be in the language you are teaching (e.g.

if you teach Spanish and wish to target English speakers wanting to learn that, you should speak in English too)

Make sure the audio and video is high quality
Once recorded, title your video "Verbling Teacher [NAME] introduction video" and upload it to YouTube.
You can find lots of previous examples on Youtube, such as this:
Is Verbling Hiring?
A surge in applications following the COVID-19 pandemic, exacerbated by changes in China's tutoring regulations, has seen a suspension of Verbling jobs for some languages. To check the current status of any Verbling teaching jobs, create an account and select the language you wish to teach; if it is unavailable you will see the following message:
Note, it is possible to still apply for some languages via this method, as opposed to the 'Apply now' button which just gives a blanket denial.
Verbling Reviews – Is Verbling Good to Work For?
The Verbling Glassdoor page gives the company an average rating of 3.8 out of 5, with 54% willing to recommend them to a friend. This is calculated from 49 Verbling teacher reviews on there (at the time of writing). The positives mentioned include the ease of applying, freedom and flexibility in setting one's own schedule and price, and lower commission compared to rivals. The platform is simultaneously praised for its tools, but criticized for glitches. Other complaints concern a lack of support from Verbling staff, difficulties in finding students, a lack of breaks between back-to-back classes, and the company's response to criticism and privacy concerns.
Here is a sample of some of the more-recent reviews of Verbling:
This Verbling Reddit thread from recent months reinforces the more negative experiences of working for Verbling, corroborating aforementioned claims of platform glitches, lack of support, censorship, and management's hardline stance against dissent. Below are some extracts:
Conclusion – Is Verbling Worth It?
Verbling's lower commission rate makes them stand out against other marketplace rivals, however, recent changes in company culture have created discontent among teachers, while the number of new applicants they take on is limited. We would suggest considering other online teaching companies ahead of them.
You can apply to teach on the Verbling website.